SeakGeek Promo Code: TRUEBLAZERFAN | $20 Gift For You
Here's a $20 gift for you. It's not a $20 bill. However, it's almost as good. It's $20 off your next ticket purchase. If you're looking for a real SeatGeek promo code or a real SeatGeek coupon, here it is. And yes, it's valid now, and all through 2020.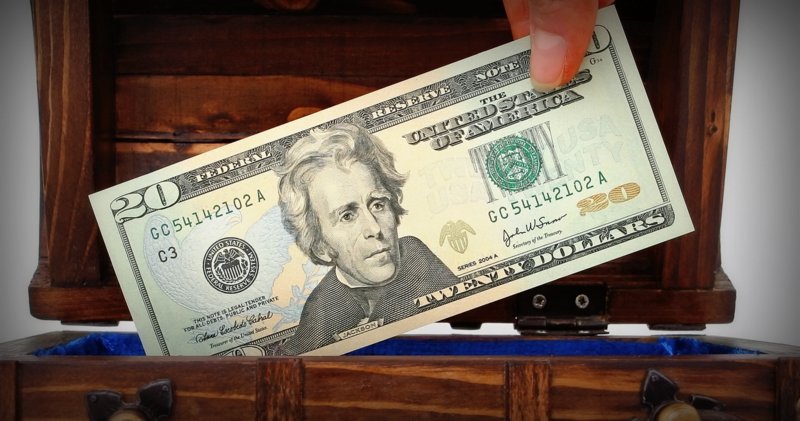 Simply use the SeatGeek promo code TRUEBLAZERFAN when purchasing event tickets using the SeatGeek website or the SeatGeek mobile app (first-time use only), and you'll save $20.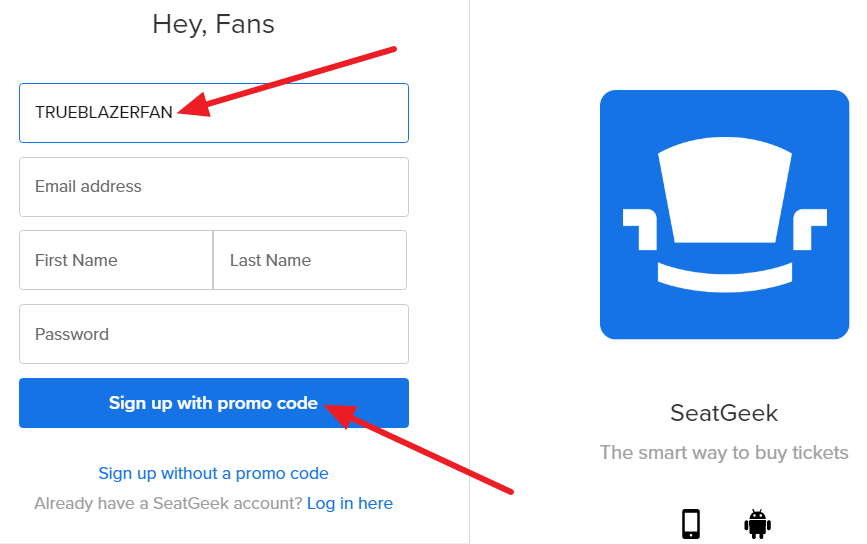 Please tell your friends about our SeatGeek coupon code. Share the love a little. Your friends will appreciate you even more than they currently do. And you might even make a few more (friends, that is).
---
What Is SeatGeek? Is SeatGeek Legit?
SeatGeek is a search engine for event tickets. Concerts, comedy, sports, theater, and anything else you can think of (including the Portland Trail Blazers of course).
I'm a huge Portland Trail Blazer fan, and I use the SeatGeek app all the time to find last-minute, surprisingly low-price tickets to Portland Trail Blazer games.
SeatGeek was the brain child of Jack Groetzinger and Russell D'Souza. The point? To help people find tickets to sold-out events. 
SeatGeek searches the Internet for tickets. Then the app presents the results in a ridiculously easy-to-read format.
---
Why We Love SeatGeek
We don't just promote our SeatGeek promo code—we use SeatGeek ourselves! We love SeatGeek, so we promote SeatGeek!
When there's a Portland Trail Blazer's home game, I check SeatGeek for tickets. And I often find radically discounted tickets right before the game. Keep on reading (it's somewhere down the page) to see my strategy for purchasing discounted Blazer tickets at the last second. I also explain this strategy in my SeatGeek review on YouTube.
Not long ago I started searching for tickets to Les Miserables for my wife's birthday. Unfortunately, everywhere I looked, the tickets were sold out. So I used the SeatGeek website (or was it the SeatGeek mobile app?) to search for Les Miserables tickets and guess what? I found them.
My wife loved the surprise, and I loved using SeatGeek. I easily found the event I wanted to attend, even though tickets were sold out everywhere else. I saw the actual view from the seat I wanted to sit in before I purchased my event tickets. I could see, using SeatGeek's preview technology, whether my deal was a good one or not based on what others were paying for their tickets.
Unfortunately, I didn't have a SeatGeek promo code—but you do (it's TRUEBLAZERFAN).
---
Repeat—Not Just Blazer Games—Tickets for Any Major Event
Wanna go to the AC/DC concert? More interested in J. Cole? John Mayer? Fine. Or perhaps you're in the mood for a comedy show. Then again, the Seahawks are playing next Sunday. What about the Blazers? Lakers? Celtics? Our promo code TRUEBLAZERFAN isn't just for Blazer games. It's for most any major event in your area.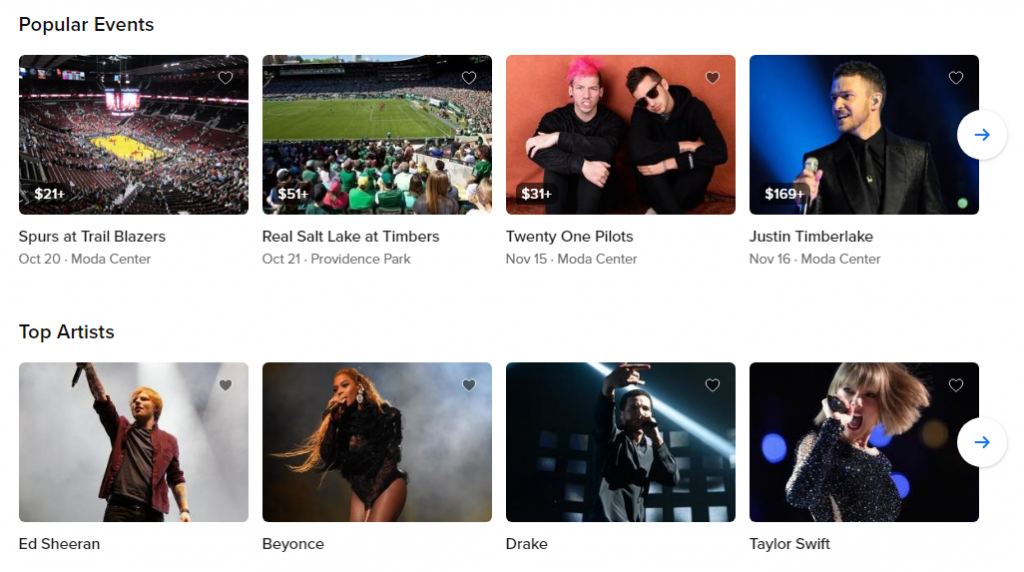 So when we say we'll save you $20 off your first ticket purchase, we're not just talking about Blazer games. We're talking about sporting events, concerts, Broadway productions, comedy shows . . . You name it—SeatGeek sells tickets for it. Just use the SeatGeek promo code TRUEBLAZERFAN for your first purchase.
---
Hey! You can use our unique promo code on any of these Portland-area events. Keep in mind that your SeatGeek promo code can be used for sports, comedy, concerts, Broadway shows, plays . . . And, the events don't have to be in Portland. I'm just listing these because I'm a Portland guy! (More events coming soon.)
Cardinals at Seahawks – December 30, 2019 (Centurylink Field)
Lakers at Trail Blazers – December 28, 2019 (Moda Center)
Maroon 5 With Meghan Trainor – August 17, 2020 (Moda Center)
Korn With Breaking Benjamin – February 28, 2020 (Moda Center)
---
Benefits of the SeatGeek Experience
SeatGeek Is a Massive Online Marketplace
The SeatGeek website (or SeatGeek mobile app) allows you to purchase any one of millions of tickets in one place. Simply visit their website here, or download the SeatGeek app on your mobile device.

With Our SeatGeek Coupon Code, You Save $20
When you get to the SeatGeek website (or after finding tickets on the mobile app), just fill in the form (including the SeatGeek promo code TRUEBLAZERFAN, and instantly save $20 off your first ticket purchase. You're welcome.
SeatGeek Color Codes Help You Find the Best Deal
SeatGeek sorts ticket prices for you. You'll see a score (zero to 10) on each ticket so you know if your deal is amazing or crap. Dark green means it's an amazing deal; yellow means it's an OK deal; and red means, well, it's not a very good deal.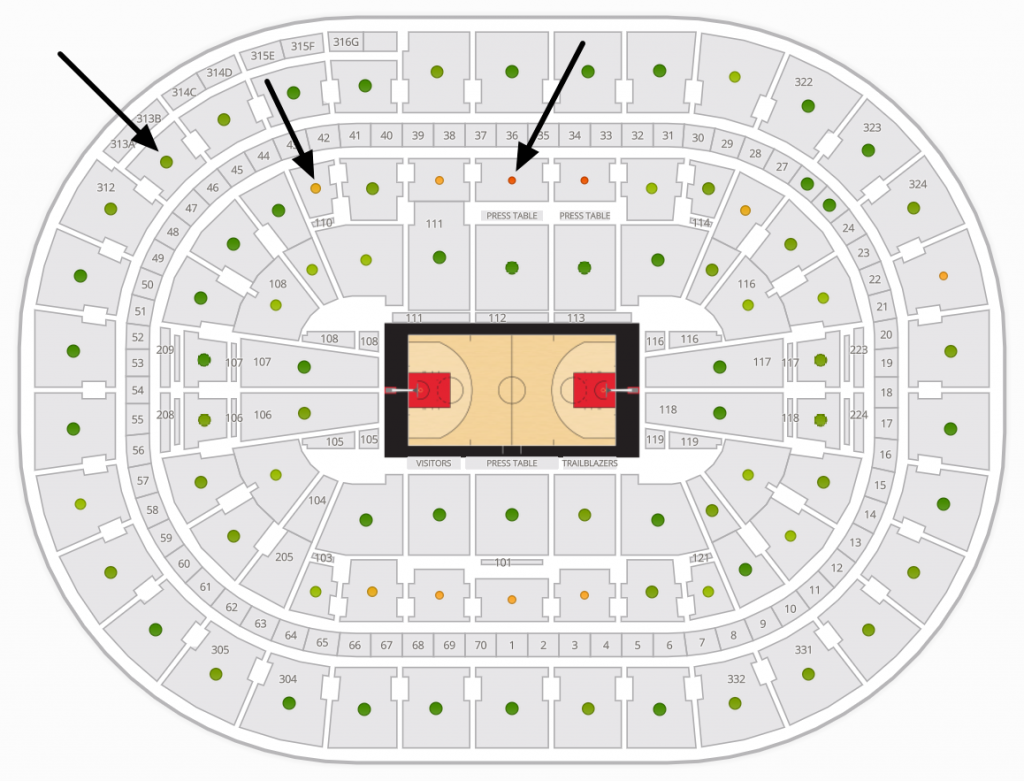 SeatGeek Gives An Actual Visual Preview from Your Chosen Seat
Another benefit of using the SeatGeek app (or the SeatGeek website) is that you get a real view of the venue from your chosen seat. It may not be exactly from the seat you chose, but it'll be very close.
The last time I went to a Blazer game, I sat in the seats below. Not bad, eh?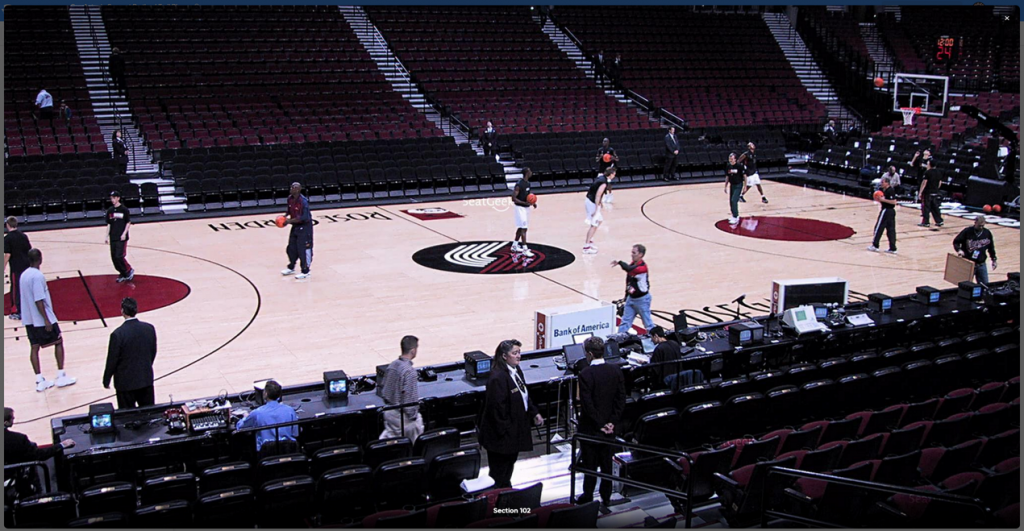 SeatGeek Will Keep You Notified of New Events That Match Your Interests
Some have asked me, "Do I really need to sign up for an account?" Well, signing up for an account makes the app significantly more useful.
For one thing, when you sign up for a SeatGeek account, you can use our promo code (you know it by now). Utilizing a coupon is always smart, right?
After your purchase, the question is, "Will I keep using SeatGeek? Is it really any good?" and the answer is an emphatic yes.
By signing up for an account, you can track events and performers and be notified when the events occur in your area. You can also have SeatGeek notify you when prices drop.
As you've probably guessed by now, I have SeatGeek set up to notify me of all the Portland Trail Blazer games. As the True Blazer Fan, I couldn't bear to miss a game.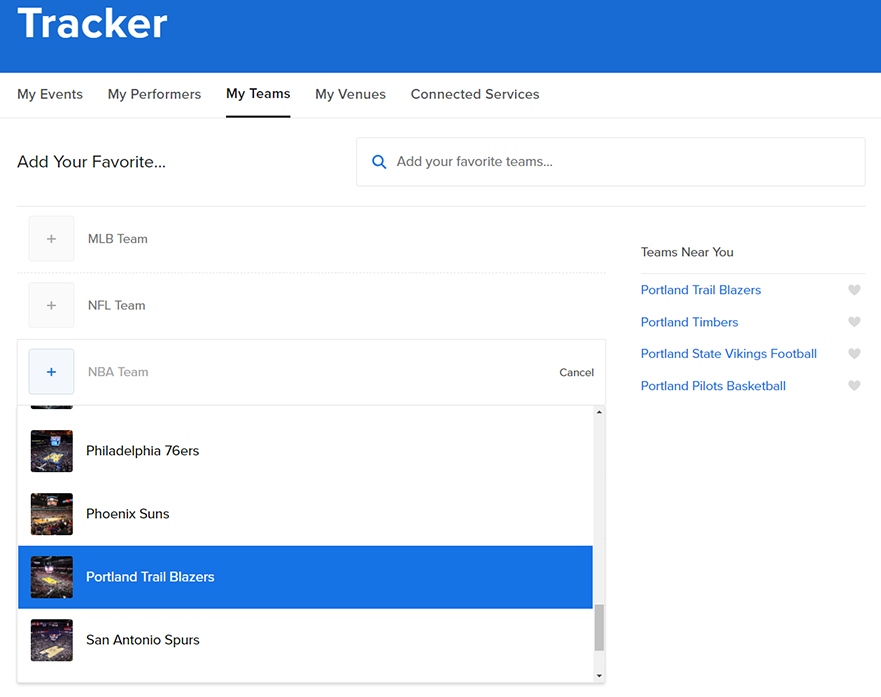 And not only can you purchase tickets on SeatGeek, you can also sell your unused tickets!
---
Where Do SeatGeek Tickets Come From?
SeatGeek tickets come from the secondary market (tickets being resold) or from primary markets that have business relationships with SeatGeek (e.g., Eventbrite or Telecharge).
SeatGeek also is the primary ticket distributor for all MLS (Major League Soccer) tickets. Yes, you heard that right Portland fans. You can get your Portland Timbers tickets on SeatGeek.
Amazing deals can be discovered in the secondary market. Naturally, prices fluctuate more in the secondary market.
A seller might think their tickets are worth more than they really are, or they may only want to sell them if they can achieve a certain price. These tickets might be a waste of money.
Then again, a seller may be desperate to sell tickets and may lower the price dramatically just to jettison them quickly. These tickets come at cut-rate prices.
Here's the strategy I promised you earlier. My coworker and I look for Portland Trail Blazers tickets at the last second. We go out to a local establishment early and get a good seat. We enjoy a nice IPA. Then, about 30 to 45 minutes before the game, we check SeatGeek.
Often a seller reduces their ticket prices significantly in the last minutes before a game just to get something for them. This is when Joel and I swoop in and snatch up the good deal.
If we don't get any great deals that night, we'll just stay where we are and enjoy the amazing Portland crowd. If you've never attended a legitimate sports bar in Portland, you're missing out. I highly recommend Century. There are no better fans than Portland fans (feel free to disagree), and you'll find them in droves on game night at Century.
And that's what makes using SeatGeek so fun. You never know what you'll find. It's like visiting a huge estate sale and coming away with that coveted prize. And your deal will be even better because when you sign up, you'll save $20 using our SeatGeek promo code (TRUEBLAZERFAN).
You may be wondering about the safety of purchasing "used" tickets on the secondary market. Well, don't. SeatGeek guarantees every ticket sale. If your ticket deal falls through, you get every dollar back (sometimes even more).
---
Why Not StubHub? Or Another Ticket App?
Just because we're SeatGeek brand ambassadors doesn't mean we're total homers. OK. Maybe we are.
But you've read this article. Now watch this video. Then go and read about StubHub's features. You might find something you really like about StubHub.
But for ease of use, the ability to find sold-out tickets, the simple way to see if you're getting a super or rotten deal . . . and the fact that you get $20 off when you use our SeatGeek promo code, SeatGeek is your best bet.
Another thought is that the more ticket-buying apps you have, the better your chance of finding the deal of a lifetime. So go ahead, try another ticket-purchasing app. But always check all of them, because you just don't know in which corner of the estate sale your prize will be hidden.
In concluding this section of the article, my recommendation would be to use SeatGeek. All the time. Every time. And tell your friends about it. And tell them about our promo code so they can save $20 too.
---
Promo Code Limitations
Our unique promotional code does have some limitations. You gotta spend at least $30. So, spend $30 to save $20.
For example, if your ticket total only comes to $25, our coupon code (unfortunately) will flop like a dead fish. The ticket total must be at least $30.
Our code also only works for your first SeatGeek purchase only. So don't try it a second time, or a third time, because it won't work!
Also, once in a while you'll find that certain tickets aren't eligible for the discount. Don't worry about it. Just choose your tickets and if they are eligible for use with our promo code, there will be a field for it. If not, there won't be. But most ticket purchases are eligible for our discount, so this won't usually be a problem.
If you'd rather, simply filter the results to see only eligible tickets. Switch "All Ticket Types" on the event page to "Promo Eligible," and you won't see any ineligible tickets.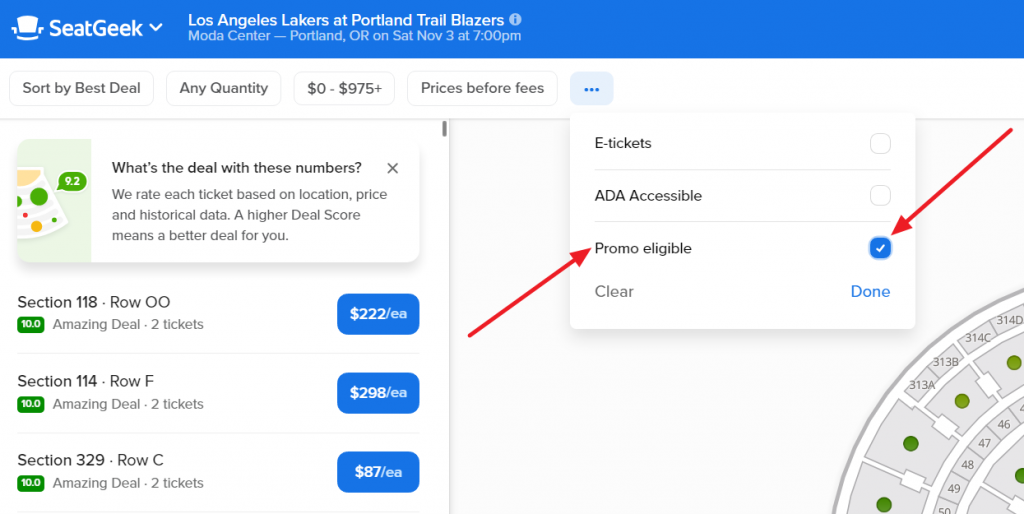 ---
SeatGeek—Nearly Perfect, but Not Quite
SeatGeek is not always the cheapest. But sometimes it is. So it's important to have it in your repertoire of ticket-shopping apps.
Ticket prices fluctuate dramatically. Sometimes tickets are overly expensive (maybe the seller thinks their tickets are worth more than they are, or maybe the seller thinks they'll be able to fleece people). But you can use these price fluctuations to your advantage to get phenomenal deals, especially at the last minute when everyone else is totally sold out.
---
Video SeatGeek Review
Here's a visual version of this article. The video review is not quite as complete as this article, but it's, well, a video instead of all this writing.
---
Pros and Cons of SeatGeek
SeatGeek Pros
Track all your favorite events and receive timely email notifications.
Every deal is color-coded. It's easy to spot the good deals, the average deals and the garbage deals.
You can use your desktop computer, your laptop, your tablet or your mobile device. It doesn't matter.
Preview the arena from the seat you'll be sitting in (or at least in the section where you're sitting)
SeekGeek tickets are primarily from the secondary market, so phenomenal deals can often be found, especially for those with a bit of patience.
Sold-out events suck. But not if you're a SeatGeek user.
SeatGeek is the primary ticket distributor for MLS (check that, Timbers fans).
SeatGeek is a comprehensive, cross-platform ticket search engine. Search the entire Internet.
SeatGeek is simple to use. My cat could figure it out.
SeatGeek has guaranteed ticket sales. You'll get the deal you bought or get your money back.
You can sell your own sad-sack event tickets on SeatGeek.
First-time SeatGeek users can use our promo code—TRUEBLAZERFAN—and save $20 off their first purchase.
SeatGeek Cons
SeatGeek tickets come mainly from the secondary market. I know I listed that as a "pro," but because of this, tickets can be overpriced at times.
SeatGeek's fees are not always the lowest. But as I've said before, it's a useful tool to utilize when you're ticket shopping. You might find your best deal on SeatGeek or you might find it on a different ticket app, like StubHub.
---
SeatGeek Promo Code FAQ
---
We're SeatGeek Program Ambassadors
What does it mean to be a SeatGeek program ambassador? It means we have the honor of offering you $20 off your first SeatGeek ticket purchase. It means we believe in the SeatGeek platform and use it ourselves when purchasing tickets. It means we are all in! SeatGeek really is the smart way to purchase event tickets.
---
Important SeatGeek Links
---
Support Our Work and Help Us Grow
Not only can we offer you a $20 savings, but by purchasing your tickets through the SeatGeek app or the SeatGeek website (and using our SeatGeek promo code TRUEBLAZERFAN), you support our work and help us grow.
If you're not interested in event tickets but still want the opportunity to grow with us, please visit our Patreon page and pledge a monthly amount.
We are Portland Trail Blazer fanatics. We follow every rumor, every emotion and of course every game. Check out our YouTube channel for current highlights, Blazer news and player analysis.
---
Go Blazers!